AirAsia Promo for July 2020
Grab the most popular AirAsia Promo Code
Please wait while we process your rating

.

.

.
Vouchers on Site
11

Vouchers
Receive 40% OFF Hotels | AirAsia Discounts

Promotion ends on December 31st, 2020. Book hotels anywhere you like around the world with 40% discounts using AirAsia sale. The price will automatically be reduced at AirAsia checkout page.

AirAsia Zest Promo: Get The Cheapest Flights In Philippines

The coupon is valid until 31st January 2021. Enjoy the cheapest flights in the Philippines only on AirAsia. Make plans to visit Cebu, Manila, Davao, Boracay, and Palawan at the lowest price + discount rates. Book your flight early for greater discounts!

AirAsia Promotion: Get All Tickets Travelling In Asia

Promotion ends on 31st January 2021. Geta discount on the hottest flight, bus and ferry tickets to popular cities. Pay up to 30% less when you book through this AirAsia coupon. No code is needed just click-through and selected your go-to destination.

AirAsia Promo: Catch Fights From Clark Under PHP 1,000

This coupon is valid until 31st January 2021. Start your travels in Clark and make your way to other parts of the Philippines for below PHP 1,000. Click through this coupon and land on the promotion page. Start booking your flights now!

AirAsia Deals: Enjoy Best Domestics Flights Under PHP 1,000

Promotion ends on 31st January 2021. Find your way home with flight tickets below PHP 1,000. This coupon is applicable for flights from major cities such as Manila, Cebu & Davao city to other parts of the Philippines. No code is needed for this awesome deal, just click through our coupon!

AirAsia Promo: Fly One-Way For As Low As PHP 857

Promotion expires on 31st January 2021. Explore Asia for as low as PHP 857 with this AirAsia coupon. Pre-book your year-end holiday with this coupon with no destination exclusions. Enjoy this discount when you plan your trips early!

AirAsia Credit Card Promotion: Earn 2x Points On Bookings

This coupon expires on 31st January 2021. Get up to 8,000 points as part of the welcome package, earn up to 2x point on every purchase with your credit card, and enjoy access to priority check-ins. Sign up now to enjoy these VIP privileges!
Vouchers and Promo Codes for AirAsia in Rappler Coupons Page Philippines

Make sure to browse and use all the vouchers available for you through our Rappler coupons page and be first to redeem the latest discounts and promo codes. Go through the ways of redeeming the discount vouchers using our coupons page! Enjoy traveling while saving some buck because affordable airfare is what AirAsia offers its passengers. Save our coupons page now and avail of the great deals on site.
They are an airline company that first came to rise in Kuala Lumpur, Malaysia. Currently, it operates domestic and international air routes bridging everyone in the Philippines to over 95 destinations located in 22 countries. Its main hub currently is the KLIA 2, the low-cost carrier terminal at Kuala Lumpur International Airport (KLIA) in Sepang, Selangor. All its Kuala Lumpur departures and arrivals function through this terminal.
Seat sales are available round the clock for you to avail of. They have "Red Hot" sales where seats are under promotion and all you must do is plan the travel. Promo codes and vouchers may also aid you to get more discounts. What else would you ask for? Your great savings by redeeming and using discount offers can be added to your pocket money!
AirAsia Services
Even though they are offering discounted services, they make sure that while using promo vouchers, people are still offered great service. Such as:
Roomy and Comfortable Seats - They provide some of the most spacious seats among Asian airlines. All seats have good cushioning, simple reclination, and large, comfortable headrests.
Professional and Pleasant Cabin Crew - If you need any assistance their cabin crew is ready to serve you anytime while traveling.
How to book flights?

Go to AirAsia.com, enter your flight schedule, the city of origin and destination, and the number of guests, then click on "search".
On the website, you will be given a selection of flights available on that date. Feel free to select a different schedule. Select the best flight that would suit your itinerary
On the next step, enter your guest details then select add-ons like extra baggage and in-flight meals. You will have a breakdown of booking and travel expenses on the right-hand side of your screen.
Now that you have everything you need, simply confirm your payment, and print your itinerary!

Payment Options

AirAsia has various payment methods to reach out to a wider range of customers and travelers. AirAsia accepts the following:

Visa
MasterCard
JCK
American Express
BigPay

Furthermore, with their mobile app, everyone can book, check-in and save all travel details on Android or iOS mobile devices! The internet is all you need, and you are good to go! You can go to their official website and scan to get your own mobile app.

Is AirAsia ticket refundable?

You may re-schedule your flight but not be able to cancel it. However, this action may incur extra charges. If you really wish to cancel, only the airport tax will be refunded.

How do I contact AirAsia?

You may contact them through their twitter or connect through their Facebook account, they are available 24/7.

The most convenient way though is to go on live chat on their website or app with their virtual representative, AVA.
How to Redeem your Promo Codes and Discounts
At AirAsia.com, you can book your flight tickets at an affordable price. Below are steps on how you can use and redeem your promo codes and discounts:
Go to the AirAsia coupon page on Rappler or simply scroll up to view the latest coupons or vouchers.
Click on the coupon that you want to use on your booking. You will then be routed to a separate page where you can copy the promo code.
Before you confirm your booking, paste the promo code into the discount box provided.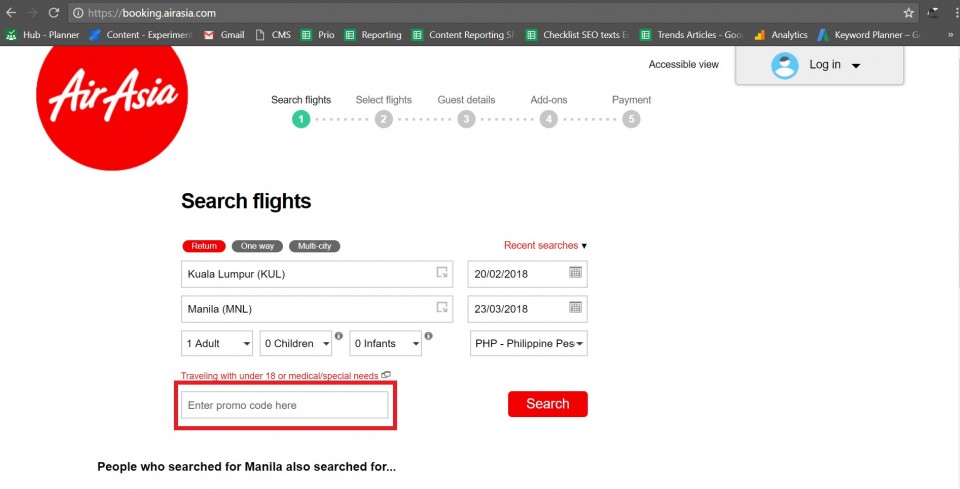 4. Enjoy the latest coupons, discounts, and promo codes at Rappler coupons page.
*There are discount offers that do not require a coupon code. If so, simply click on the View this Offer button to go directly to the promo you wish to use.
To be updated on the latest seat sales, discounts, and exclusive promo codes, you can sign up for a newsletter. Never miss a seat sale with Rappler!