Airbnb Coupon for February 2020
Grab the most popular Airbnb Promo
Please wait while we process your rating

.

.

.
Vouchers on Site
8

A home for every traveler only at Airbnb Philippines

Planning a trip can be both exciting and terrifying. But when it comes to unique travel experiences, no one can do it better than Airbnb. No matter where you go, you can always count on Airbnb to offer you everything you need to make yourself at home, no matter what property. And while traveling cuts off your savings, Rappler allows you to create memories without bursting your wallet. How? With coupons and discounts of up to 90%.
We at iprice know the value of money and we would love to put a smile on your face when you shop with us. All our coupons and codes are filtered so that you will have the ultimate best. Here is how you can make full use of iprice deals, coupons, vouchers, and discounts.
On your web browser, open rappler coupon page.
Get excited looking at all the great coupons and pick the ultimate best that would be applicable to your purchase
Click on the "Get this offer" to generate your code. Some offers come without a code for you to enjoy straight away.
Copy the code and click on the highlighted link to be taken to the world of Airbnb.
Search for the best accommodation and copy the code when you are ready to make your payment
Pack up and get ready for the most exciting time of your life.
Fulfill your bucket list with great coupon codes from Airbnb Philippines
At Airbnb, you can search for almost any type of property to rent ranging from treehouses to boathouses to even castles for those who wish to know what it feels like to be a part of the Game of Thrones. Here are some of the coolest places you can find on Airbnb.
Medieval Tower in Lazio, Italy
The Siphon (rail carriage) in Cornwall, U.K.
Seashell House in Isla Mujeres, Mexico
Gold Coast Villa in Mount Nathan, QLD, Australia
Elle (gypsy wagon) in Cornwall, U.K.
Enjoy eye-opening experiences only with Airbnb
"Airbnb is about so much more than just renting space, it's about people and experiences. At the end of the day, what we're trying to do is bring the world together. You're not getting a room, you're getting a sense of belonging." – Brian Chesky, Founder of Airbnb

Founded in August 2008, Airbnb is a website where people can list, discover and book unique accommodation all around the world. When the dynamic trio, Brian Chesky, Nathan Blecharczyk and Joe Gebbia introduced to the world the idea of people renting rooms in a stranger's home over the internet, everyone thought that it was a crazy idea. But they managed to convince people to do just that! Today, with a total of over 40 million guests and over 1,500 000 listings globally, Airbnb offers more lodging than any other hotel chain in the world.
No matter if you are looking for an apartment for your one night stay, or be one with nature on a treehouse for a week, or even a private villa to host your whole extended family for a fortnight, Airbnb has taken travel to a whole new level.
Enjoy Airbnb with your favorite BANG!
Ever wondered what it would be like to live in your favorite celebrity's home? Well, 5 extremely lucky fans of G-Dragon of Big Bang knows just what it is like thanks to Airbnb.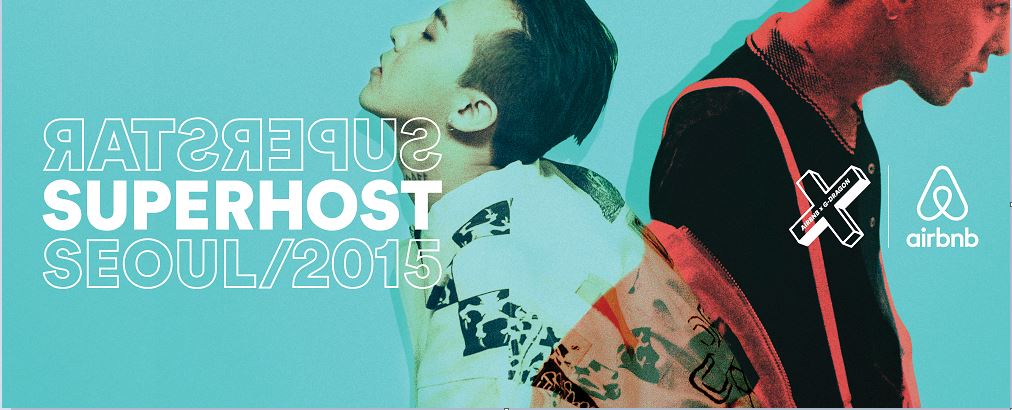 Airbnb announced its collaboration with G-Dragon where 5 fans would win the gift of a lifetime, a stay at GD's second home in Seoul. The collaboration known as the Superstar to Superhost brought 5 winners from all over Asia to the legendary Dukyang K-Pop Studio in Seoul which is filled with GD's memories of when he was just a trainee. The place was filled with everything that inspired him and Airbnb transformed it into a home for them to get to know each other better.
Thanks to this incredible opportunity from Airbnb, everyone got a glimpse of what it feels like to be with G-Dragon.
Traveling via Airbnb
It is always exciting to leave your comfort zone and venture out into the blue. Travel the world with these easy steps from Airbnb.
Booking a place
Airbnb community works mainly on trust. So it's always important to complete your profile before booking so your host might know a little bit about you. In your profile, it includes photos and verifications and can be linked to your Facebook.
Enter your arrival and departure dates and the number of guests when you search to narrow down your listings. You can always use the Airbnb map or the neighborhood guides to make sure the location is the most convenient for you. Always review amenities and house rules to know more about what is available in your listing and what are some dos and don'ts.
Once you have found your perfect lodging, it's time to book it. Based on the host, there are two ways you can make it official which are
This only works for hosts who do not manually approve each reservation. You will be able to confirm a reservation at these places right away.
Some hosts prefer to approve each reservation they receive. You will need to submit a reservation request with your payment details and it would take up to 24 hours for the host to confirm it.
Payment
Once your reservation is submitted, your payment information will be processed. If your payment option does not display on the checkout pay, it means that your option is currently unavailable or cannot be used.
When the hosts accepts your request, Airbnb charges you for the entire amount of time. Before giving it to the host, payment will be held by Airbnb 24 hours after you check in to ensure everything is as expected.
Airbnb accepts several payment methods and currencies based on your listings – these available options will be displayed when you proceed to payment.
Cancellation, Changes, and Refund
Each space on Airbnb has its own cancellation policy, set by its host. Do review the cancellation policies before making a reservation in case of an unexpected situation, you might still be able to cancel your listing and receive a refund (based on the host). The cancellation policy can be found in the prices section of the listing.
To make a change on your confirmed reservation, you can use the alteration request under 'Your Trips'. Your host will need to accept your changes in order for it to be confirmed and if you do not receive a response, the original reservation will remain the same.
Refunds depend on the cancellation policy your host has selected for their listing. But some situations that are outside the power of the cancellation policy are
Host cancellations
Extenuating circumstances
Cases covered by Airbnb's Guest Refund Policy
If you are given a refund, do keep in mind that it might take some time for the money to arrive in your account.
Customer Service
Airbnb encourages you to get in touch with your host if you have any reservation related issues, which is the quickest way to resolve problems about your stay.
But if you need to get in contact with the Airbnb team, you can visit the contact page to select the issue you need help with. If you are faced with more urgent situations, you can use the local phone number that is included in your original confirmation email. They are available 24 hours a day, 7 days a week no matter which continent you are in.
Greater deals and bargains with Rappler
Rappler is the one-stop-shopping destination that houses the best Airbnb coupon codes, discounts and vouchers online that can be used when you book for lodging on Airbnb. Not only that, but we also bring many other store's products at the best price available. As the one-stop shopping destination in South East Asia, iprice gives a whole new meaning to online shopping. On Rappler, you will be able to find just what you need from different online retailers on one platform.
Be ready to travel the world with Airbnb without breaking the bank via Rappler.