Vouchers on PinasGifts
Please wait while we process your rating

.

.

.
Vouchers on Site
0
Pinas Gifts - the Perfect Way to Show your Love

Mother's and Father's day, Valentine's Day, anniversaries, birthdays, greetings, and other celebrations are all days to celebrate our relationship with our loved ones. It is encouraged and often customary to give them gifts during these special occasions. By showing your appreciation, you are honoring your relationship and letting them know that you care. To help you create the perfect present, Pinas Gifts brings you a wide selection of products such as flowers, live plants, fruit and gift baskets, as well as cakes, small toys such as teddy bears, balloons, and so much more!
About Pinas Gifts
Pinas Gifts is one of the oldest and longest-running online gift delivery/ store that puts together the perfect present for your loved ones. You can order your flowers or a set of customized gifts and send them instantly to your friends and family. No need for long checkout lines, no need to wait, with Pinas Gifts, you get instant service without hassle. Pinas Gifts provide a simple, customizable, and all-in-one destination for everything gift-related.
Reasons why you should choose Pinas Gifts
Send your gifts anywhere in the Philippines with Pinas Gifts.

No matter what the occasion, no matter what day it is, you can send your gifts from Monday to Sunday, and even on holidays!

Another great thing about Pinas Gifts is their super-affordable packages that would suit your budget.

Add something special to your gift by customizing your set for your loved ones.

Pinas Gifts also offers same-day delivery within Metro Manila and next day delivery in regional areas.

The store guarantees fresh fruits and flowers delivered at all times

You can also write your own messages for your loved ones with free gift cards delivered with all your items.

Easily get in touch with the store's customer service through chat, email, or phone for inquiries about your order.
Payment Methods
Pinas Gifts accepts all major credit cards such as VISA, MasterCard, American Express, Discover Novus, Diner's Club, and JCB. You can also use your PayPal account or cash payments through wire and bank transfer. As much as possible, Pinas Gifts provides you with a lot of payment options to meet your needs.
Shipping and Delivery
Pinas Gifts delivers to all destinations in the Philippines, 7 days a week including holidays through FedEx/ DHL and LBC. A standard shipping fee of 9.99USD for Manila and provincial destinations with same day delivery possible for orders confirmed before 12 noon within Metro Manila and next day delivery for regional destinations. Pinas Gifts also offers hospital deliveries for your Get Well Soon gifts.
How to Shop at Pinas Gifts
Step One: Find your Items
When shopping for the first time at Pinas Gifts, the first thing that you need to do is find the items that you want. You can choose from different categories on the site such as flowers, food items, gifts, and even electronics and add as many as you want in a bundle. You can also use the search bar to search for items that you specifically want to be on your gift set.
Step Two: Add to your Cart
Now that you have everything in your shopping car or "basket", you can add, remove, and change the quantity instantaneously on the basket page. Aside from that, you can also apply Pinas Gift discount codes if you have any to your purchase. After you have checked everything, you can then proceed to check out.
Step Three: Confirm your Purchase
Finally, you can then proceed to the checkout page where you will need to fill in your shipping and billing information. Aftewards, choose your preferred payment method and enter your details. Don't forget to fill in your personal greeting card before you check out.
How to Redeem your Pinas Gifts Coupons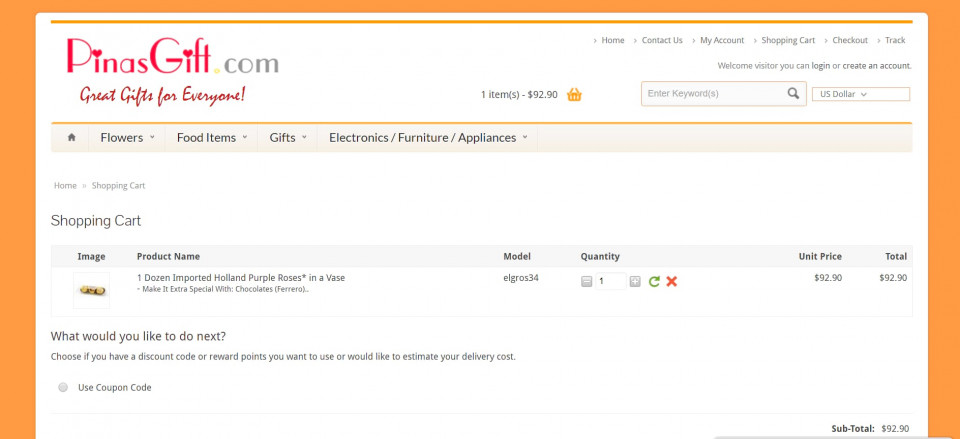 Pinas Gifts is a convenient and economical way to send your affections to somebody. Whether it's your friends, family, or your significant other, let them know you care with exciting gift sets that are fully customizable. If you are planning to send gifts to your loved ones, you can also use Pinas Gifts coupons for exclusive deals and discounts off your purchase. Here are four steps on how to redeem your vouchers from Rappler:
Go to the Pinas Gifts coupon page on Rappler or simply scroll up to find available coupons that you can use for your online purchase.

Choose the Pinas Gifts coupon that you want by clicking on the

Get Coupon Code

button. You will then be routed to a different page where you can copy the code.

Before you check out on Pinas Gifts, paste the coupon code that you copied within the discount box to reveal the last price.
Enjoy great discounts from Pinas Gifts and Rappler!
Take note that there are offers that do not require a discount code. If that's the case, proceed to shopping at Pinas Gifts online with no additional steps! Let your loved ones know you care, even if it's not your anniversary, your birthday, etc. Shop for your favorite gift items at Pinas Gifts now!