Coupons
10% off on your first purchase

Expired

Free delivery on Bench storewide products with Min spend P1000

Expired

As low as P399 on top choice hoodies for men

Expired
Save Money on BENCH/ with Rappler Deals and Coupon Codes

BENCH/ Philippines: Your One-stop Destination for an Innovative Lifestyle

If you live in the Philippines and have walked past a shopping district, chances are you would have passed by a BENCH/ store. That is because BENCH/ is the leading lifestyle brand in the Philippines with outlets in the United States, Middle East, and China. Its humble beginnings are tremendously disproportionate to the lifestyle conglomerate it is today. It started out as a small shop selling men's t-shirts in 1987 before expanding to include womenswear, undergarments, footwear, housewares, and other lifestyle products. Now BENCH/ stands at the leading fashion retailer of men's apparel in the Philippines. They pride themselves on providing their customers with premium products at affordable prices. Continuing their prodigious growth, BENCH/ aims to one day be a recognized world brand for lifestyle products.
The brand has grown quickly with a wealth of celebrity endorsements. It has co-sponsored a David Guetta concert in the Philippines, offering special VIP tickets to its customers. BENCH/ has also collaborated with celebrity hairstylist, Mark Bustos, for the launch of Bench Barbers, a salon for men who want sleek haircuts. It is clear then that BENCH/ takes its vision of leading, inspiring and serving the lifestyle of its customers seriously.
The Many Facets of BENCH/
If it's a lifestyle product, it's likely you can get it from BENCH/. BENCH/ can be easily navigated through their different categories which include:
BENCH/
For the menswear that BENCH/ is famous for. Get everything from BENCH/ jackets and T-shirts to belts, watches, and footwear.
BENCH/Body
BENCH/Body provides for all your undergarment needs, from the basic underwear to something trendy or sexy. BENCH/Body also stocks cosmetics, fragrances, and toiletries.
BENCH/For Her
Colloquially known as Herbench, BENCH/For Her is the go-to place for innovative women's fashion.
BENCH/Accessories
While BENCH/ and BENCH/For Her have their own accessory lines, BENCH/Accessories is the answer to a demand for greater variety. So if you life accessories, check out BENCH/Accessories for essentials like wallets, slippers, and anything else you can think of.
BENCH/ also works with different brands to provide the best lifestyle products available to their customers. These brands include Vero Moda and Karen Millen for apparel and accessories, Aldo for shoes and bags, Estée Lauder and Bobbi Brown for cosmetics, and Patchi for specialty food.
Get Quality Lifestyle Products with BENCH/Philippines for Cheap
Like to shop but dislike overthinking? Well then, you've come to the right place. With BENCH/'s comprehensive range of lifestyle products, their website is the place where you can find everything you need or want. And now with Rappler's deals and coupon codes, you can shop at BENCH/ for even cheaper. So avoid the frustration of battling the traffic in Metro Manila and getting overwhelmed by the myriad shopping options out your doors. You can sit back, relax and find your friend's birthday present or an outfit for the next hot date from the comfort of your own home while saving money at the same time. Grab a BENCH/ discount promo now and begin your shopping experience.
How to Apply Your Rappler Discount with BENCH/
Find a deal or coupon that you like from the list above.

Click on the 'View Deal' or 'Get Code' button provided.

(Tip: If you're planning to save the deal for later, do pay attention to the expiry date.)

If you have chosen a deal, no coupon code will be given. Click on the 'Go to Store' button to be directed to the BENCH/ homepage immediately to start your shopping experience. Should the homepage not load, click on the embedded link provided to proceed.

If you have chosen a coupon, you will receive a generated code. Copy it by clicking on the button 'Copy Code'. If done successfully, the Copy Code button will now show the text 'Copied'. Click on the highlighted link 'store' to proceed to the BENCH/ website.

After you have finished shopping, apply the code at checkout and get your discount.

Enjoy your new BENCH/ product!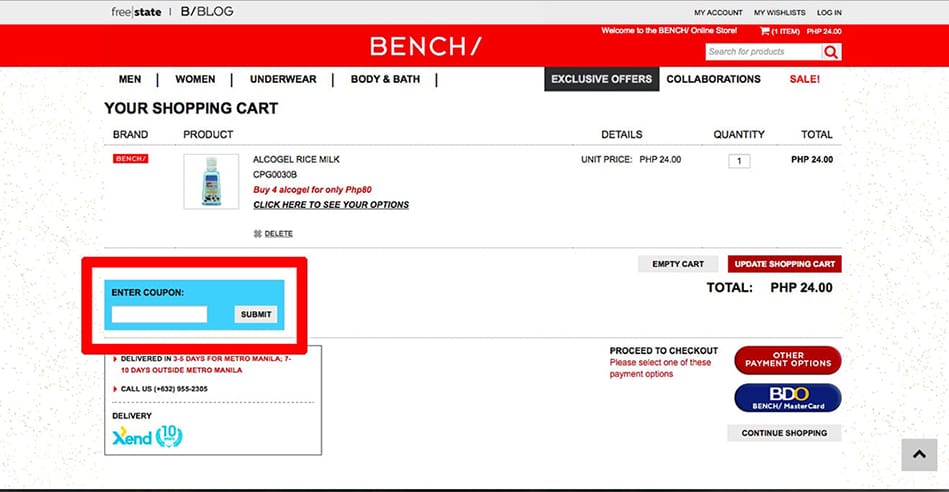 Enjoy Safe Shopping with BENCH/ Philippines
There are always risks that come with online shopping but BENCH/ has minimized these to ease your shopping experience. When purchasing with BENCH/, you can take advantage of these services:
Multiple Payment Methods
BENCH/ purchases can be paid through bank deposit, cash on delivery (COD), and credit card. Simply pick the method which is most convenient for you, or the method which you consider most secure, and wait for your purchase to arrive at your doorstep.
Order Tracking
Each processed purchase will be assigned a tracking number, which you will receive in the email from BENCH/ confirming your order. You can use this number to check the status of your order on the BENCH/ website. If you do not receive your order during the indicated time frame, you can contact customer service.
Cancellation
If you change your mind about the purchase, you can cancel the order without being charged. To take advantage of this option, cancel the order before 2 pm on the day of order if you ordered on a weekday. If you ordered on Friday or the weekend, make sure to cancel the order before 2 pm of the following day. Should you have any questions about canceled orders, you can solve them by contacting BENCH/'s customer service.
So go ahead, take advantage of these Rappler deals and enjoy shopping for the best and cheapest lifestyle products at BENCH/.